Speen Shop Charities Committee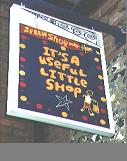 In 1995 The Buckinghamshire Housing Association purchased the old Speen Shop site and built 4 three bedroom cottages, 1 two bedroom cottage and a new shop on the site.  The cottages were completed and occupied in September 1997 and the shop was leased and officially opened in May 1998.
With the opening of the shop, Speen Shop Charities Committee was founded.  Funded by rent from the shop, the charity may provide financial assistance to villagers for any useful non-commercial purpose, which either satisfies an individual or group need, or is of benefit to the community of Speen.  The Committee is made up jointly from Speen residents and Bucks Housing staff.
Application forms (including contact names) are available from the shop, or may be downloaded by clicking the link below:-